I've never really had a public portfolio of my design work. I think for the most part, that was because I've had a job that I liked. As I've been thinking about it lately, I have realized its actually because I want to do so much more than just design work.
So, over the last couple of weeks I built a new stublag.com that collects all of the illustration & animation work I've done over the last couple of years. It's been a lot of fun to see it all in one place.
Originally I bought jokey domains like render.zone to start putting this stuff out there. I think it's time to start collecting all of this work in one place and put my name on it ✌️
Suzuki Carry
One project I really liked working on recently was modeling and animating a stylized Suzuki Carry. On a walk in our neighborhood I came across one of these tiny Japanese trucks, and became obsessed with it. The Suzuki Carry is just one of many small "kei"-sized trucks.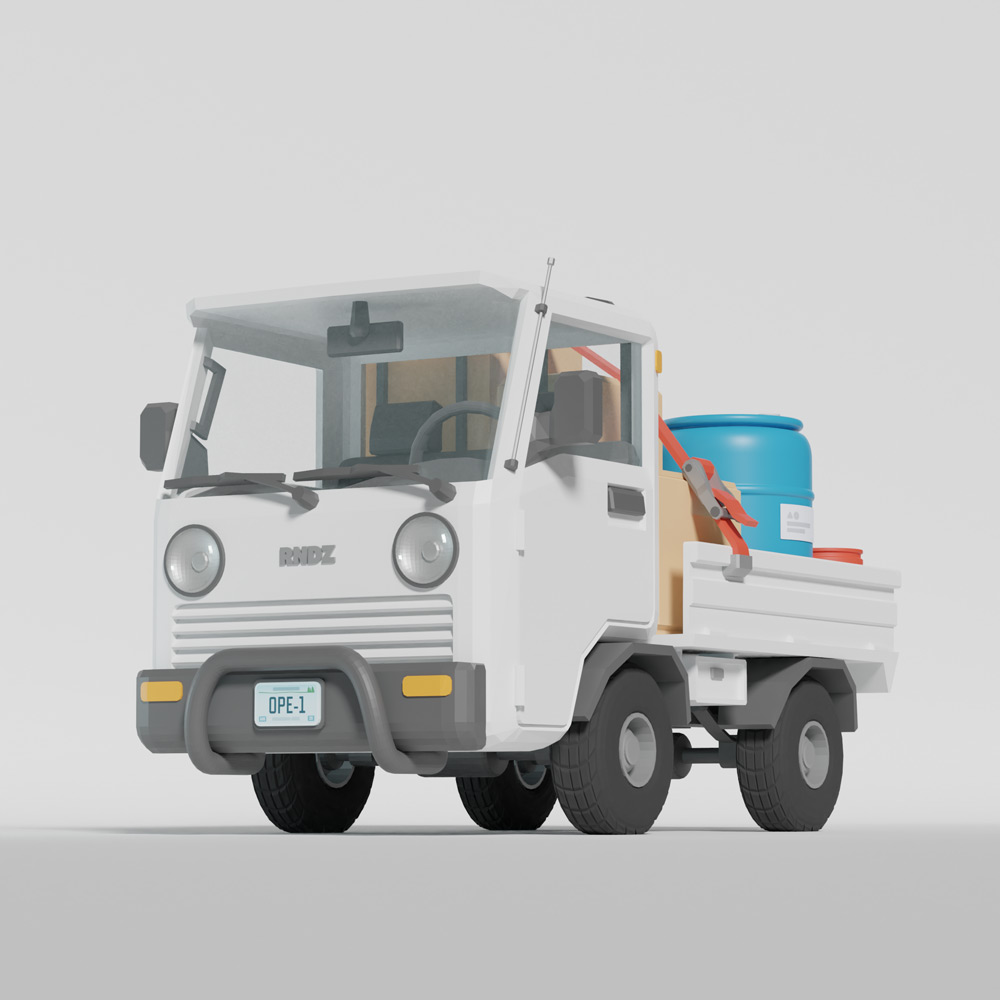 About halfway through modeling this truck I wondered just how hard it would be to rig and animate it. As it turns out, there are tools out there that can automate much of the (otherwise very tedious) rigging process. You can see the final animation & time-lapse here.
One of my favorite details about animating this truck it that I actually figured out a way to have the tires deform/flatten only when they're touching the ground.
After the truck I spent some time modeling a Honda Motra. Not really sure what I'm going to build next, but I think I want to model & animate a tug boat?
Some nice things
Good Sudoku
I remember in the early 2000s Sudoku became a huge deal. People had books of puzzles that they were working on, or doing the ones in the newspaper. Not really seeing the challenge, I burnt out on them pretty quickly. The "hard" puzzles were mostly just more annoying.

Good Sudoku has actually made learning Sudoku super fun. Turns out there are a lot of high level strategies and patterns that are fascinating. Also, it takes out all of the annoying busy work around counting and taking notes, making solving puzzles quick and enjoyable. The tools are so good it actually feels like cheating.

The beauty of Good Sudoku is that it gets you past all of the grunt work and onto learning new strategies that make harder Sudoku puzzles actually approachable & interesting.

A Monster's Expedition
A great little logic puzzle game that's included in Apple Arcade if that's your style. I'd say it's even worth paying full price for elsewhere. Rolling logs around chill islands to get to even more chill islands. Nice.

Actually using the TV app on Apple TV
I know the TV app on Apple TV is not great. But! One of the few things it actually does surprisingly well is collect all of the shows you're watching across different TV apps (HBO, Hulu, etc) into one big "What to Watch" queue.

Here's why I bring this up: by default, if you have the TV app in your top row, it will unhelpfully show you some random TV shows & movies. To fix this go into the Apple TV settings → Apps → TV → Home Screen → Change Top Shelf to What to Watch.

Now when you select the TV app in your top row it'll show you the next episodes of shows you're watching across everything (except Netflix), which you can start right from there. Pretty good.
Okay seeya!
Paul
***
unsubscribe